David Parr House, 186 Gwydir Street, Cambridge
The story of an extraordinary house, by Tamsin Wimhurst
This was the subject of an excellent talk at the January meeting of Sawston Village History Society.
David Parr's home was preserved by his granddaughter, Elsie Palmer, who moved there in 1927 at the age of 12 to live with her grandmother when her grandfather died. She continued to live there for over 85 years, during which time she married and raised two children, who still live near Cambridge.
David Parr bought the house in 1886. He was a working class decorative artist who worked for the Cambridge firm of 'artwork men', F R Leach & Sons. He learned his trade there, painting houses and churches with designs by such renowned names as William Morris. Leach specialised in all aspects of church decoration from wall painting to altar hangings and stained glass. His work can be seen in Jesus and Queen's Colleges, in St Botolph's and All Saints' churches in Cambridge, St James' Palace in London, and all over the country.
Over a period of 40 years, David Parr decorated his own home in the style he used during his working day, hand painting by candlelight. He kept a record of the work as it was done. In 1892 he installed an indoor toilet, which must have been a novelty at that time. In 1912 he inscribed "If you do anything, do it well" in his house, and his patterned hand painted walls are a testament to that maxim and the Arts and Crafts movement in general. What is unique is to find such skill and artistry in such a humble location.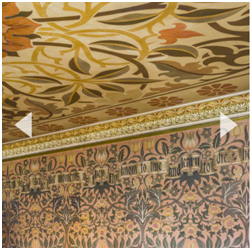 The house was bought in 2013 and a charity was set up the following year. The first urgent job was to mend the roof as it leaked every time it rained. This was made possible by a private donation. In 2016 a grant from the Heritage Lottery Fund enabled a two and a half year conservation project to begin. The exterior brickwork had been re-pointed with cement, which had to be replaced with lime mortar. Where internal plaster had crumbled away due to the damp, it had to be replaced using original materials. The next job was conservation and restoration of the decoration. The Hamilton Kerr Institute were called in to take pin prick samples of paint used inside and outside of the house to analyse the paint and colours which David Parr used.
Some 5,000 objects in the house had to be conserved before being put back in the house exactly where they had been. The garden had been overrun with ground ivy which had to be killed by covering with black plastic after removing all surviving original plants. When the soil was clean it was replanted as near as possible to what David Parr had done.
The house is now open to the public by arrangement for small groups of up to six. When Number 184 came up for sale, a private donation enabled it to be bought and a visitor centre created, with a flat above to produce additional income.
More information can be found at https://davidparrhouse.org.
Jim Butchart